Your Cart Contains: chdir ('phpcart'); include ("phpcart-display.php"); ?> item(s)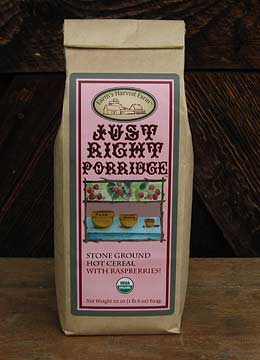 Just Right Porridge
Just Right Porridge is our first blend to use dried fruit. We chose to add raspberries because we really like them and they seem to be a perfect match with the barley and oats. It really is just right!
No GMO's
Whole Grains for Best Flavor and Nutrition
100% Organic Ingredients
Barley, oats and raspberries - Absolutely delicious!
Vegan
Product Information:
Ingredients: barley, oat groats, rolled oats, freeze dried raspberries.
100% certified organic ingredients.
22 ounce bag.