Your Cart Contains: chdir ('phpcart'); include ("phpcart-display.php"); ?> item(s)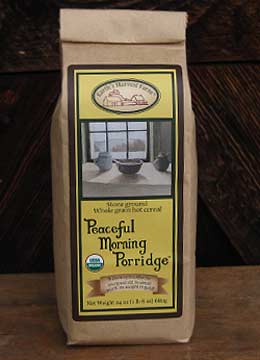 Peaceful Morning Porridge
We feel Peaceful Morning is an appropriate name for this blend as there is something calming about it. The texture is finer than the Farmhouse blend and the flavor is mild. It's a nice way to start a hectic day.
No GMO's
Stone Ground Multigrain Cereal
100% Organic Ingredients
Barley gives this cereal its unique flavor while providing some great nutritional benefits.
Vegan
Product Information:
Ingredients: barley, brown rice, rolled oats, blue corn.
100% certified organic ingredients.
24 ounce bag.